Introducing FleurEver DIY
We are excited to introduce our DIY Range. Boxes carefully created for different projects or as the perfect gift.
Buy online with Free Shipping!
Looking for wholesale dried and preserved flowers? Look no further than FleurEver!
With our extensive
collection of flowers and colors, finding the perfect flowers for your arrangement has never
been easier.
How to use the catalogue:
It is easy to search for specific flowers or colours in our collections below- you can also use the search bar at the top of the page - or Click Here
Use this as reference in conjunction with our weekly pricelists we send to your inbox. Our pricelists contain hyperlinks linked to the products.
How To Order, Location and Opening Hours- Click Here
*Refer to our pricelist to see what is in stock*
We make every effort to ensure that the products listed on our website are in stock and accurately represented. However, we cannot guarantee the availability of all products at all times and actual product colours may vary slightly from the photos listed on our website. In the event that a product is not available, we will notify you as soon as possible and provide you with a suitable alternative.
Location
Our store
Door D, 3 Monahan Road, Mount Wellington, Auckland, 1060
*Down the right side of the warehouse
Opening Hours:
Monday 9 am - 1 pm
Wednesday and Friday 8 am-12 pm
One Saturday per month TBD
How are Sola Flowers Made?
Testimonials
Just wanted to say that it was lovely meeting you both today. Thank you so much for your help. I will send you some photos once we have made them up. You guys rock and your little shop is amazing. I wish I had more reason to come by to buy everything. Will definitely be recommending you to others and the venue I am using for a dry flower option.
 Thanks again Sarah 

Sarah Williams
 Received this morning... it's gorgeous... just what I needed... thank u so much for your exceptional customer service... it's truly appreciated! ❤️

Pip
Naturally Created Using "The Real Deal"
Discover the beauty of FleurEver Flowers and Foliage, the eco-friendly, sustainable, and pollen allergy-free solution that lasts for years. Our unique preservation process ensures that our blooms retain their natural beauty for up to five years, making them an economical and care-free choice. Unlike fresh flowers, which need to be replaced every few days, our preserved flowers and foliage are super long-lasting, making them perfect for those with allergies or a desire for low-maintenance beauty. Choose FleurEver for 100% natural, eco-friendly, and sustainable blooms that will bring joy for years to come.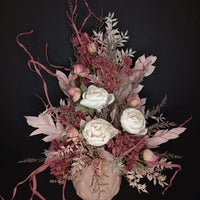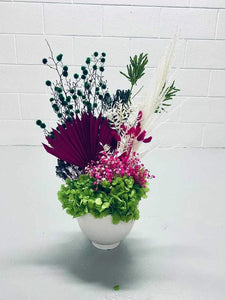 Our Range
At FleurEver, we pride ourselves on our extensive collection of bleached and colored preserved flowers and foliage. Our range is constantly evolving to reflect the latest trends in floristry, including bold and unusual color combinations as well as natural and muted tones. We are committed to sourcing the best blooms for the best value, ensuring that our customers always have access to the latest and greatest in preserved florals. From classic arrangements to trendy new creations, FleurEver has everything you need to create stunning, long-lasting floral displays.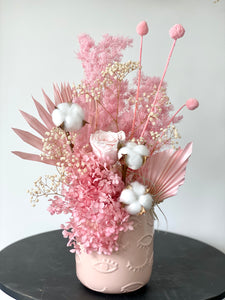 Why choose preserved
Dried and preserved materials offer a multitude of benefits, including the ability to create long-lasting designs. This makes them an excellent choice for public and retail spaces that require permanent displays. Dried materials are not only used on their own in arrangements but also combined with fresh flowers and foliage, adding depth and texture to any design. At FleurEver, we offer a wide range of dried and preserved flowers and foliage, perfect for creating stunning and long-lasting displays. From classic arrangements to bold and unique designs, our preserved materials are a versatile addition to any floral toolkit.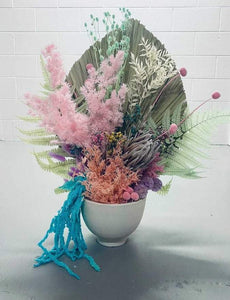 Lasting Beauty
The versatility of preserved flowers and foliage is truly unmatched. From flower crowns and hair accessories to bridal bouquets and hanging installations, preserved materials can be used to create an endless variety of designs. Whether you're crafting buttonholes, vase arrangements, chandeliers, wall hangings, corsages, wreaths, or flower domes, preserved materials offer unparalleled beauty and longevity. At FleurEver, we offer a wide range of preserved flowers and foliage in a variety of colors and textures, perfect for adding a touch of natural elegance to any project. With preserved materials, the creative possibilities are truly limitless.
Instore at Shine On

Design by Hayley
Fab creations by Frankie and Flora
Beautiful designs by Serendipity blooms
Stunning textures

made by Sandra - House of Florence, Taupo
Another Beauty!

by Frankie and Flora
Instore at Shine On
Design by Hayley
Fab creations by Frankie and Flora
Beautiful designs by Serendipity blooms
Stunning textures
made by Sandra - House of Florence, Taupo
Another Beauty!
by Frankie and Flora
How are they made?
Flowers and foliage are pre-selected for the highest quality
Freshly harvested flowers and foliage are treated with a 100% natural plant-based preservation liquid and colourants
The products used in the preservation process are non-toxic, non-corrosive and non-flammable
The liquid replaces the sap within the flowers and stems -this process keeps the stems and petals flexible – it can take 5- 10 days to complete this part of the process
Next the flowers and foliage is dried in a special drying room
All preserved product undergoes a heat treatment to protect it from attack by moths and larvae
After several days of drying all product is quality checked and only the best are chosen
Care Instructions
Use indoors only
Do not expose to water
Do not expose to direct sunlight -this will cause colour fading
Not edible – keep away from pets and small children (But in saying this Wanda's dog Charlie ate all the little bits off our warehouse floor when he was a puppy and still as fit as a fiddle)
Avoid extreme humidity (over 80%) – keep in a cool, dry area - some items absorb lots of moisture (especially some bleached items) if this happens just place them in a dry area and they will dry out again, or store in a box with moisture remover bags)
Occasionally clean using cool dry air (a hairdryer set on cool works great)
They are fragile – avoid pressing or crushing blooms or petals
Follow these instruction for years of enjoyment from your FleurEver creations.
Disclaimer
At FleurEver, we take pride in our beautiful and delicate preserved botanicals, but please note that there may be variations in size, color, and shape due to the natural process of preservation. As with any natural product, there may be color variations and defects that are inherent in the material. Additionally, dye lots may vary, resulting in differences in color from what is shown on our website or social media platforms.
Please be aware that darker colors, particularly reds and greens, may leach, especially in high humidity. We advise placing these products in a dry area to reduce this problem. Please note that we do not accept returns or exchanges on items due to color variations or defects.
Please allow time for your flowers to settle after being transported, as shipping may take a toll on their delicate condition. While we cannot accept returns for flowers damaged during transit, we will do our best to assist you in contacting the delivery service provider in case of damage. We do not offer returns or exchanges on items if you change your mind after placing or receiving your order.
Please keep in mind that reference images on our social media platforms are for illustrative purposes only, as filters and lighting may alter actual colors. Therefore, we will not accept the return or exchange of any flowers due to variations between the flowers you receive and the reference images on our platforms. Thank you for your understanding and for choosing FleurEver for your preserved botanical needs.
Conditions
If you have received an incorrect item, please contact us immediately at info@fleurever.nz, and we will work to resolve the issue as quickly as possible.
In the event that you receive damaged or defective goods, please email us at info@fleurever.nz within 3 days of receiving your order, and provide an image of the damage. We will respond to your inquiry as soon as possible.
Orders will be shipped promptly upon receipt of payment. Any orders that have been placed but not paid for within 7 days of invoice issuance will be returned to stock. To ensure our emails reach you, please add us to your safe sender list and use your invoice number as the payment reference.
How to return an item:
If you wish to return an item, you must follow these steps:

(i) Contact us in writing to request a return and receive approval.
(ii) Post the item in its original condition to the address provided, along with the invoice number or proof of purchase.
(iii) Provide the tracking number of the return shipment via email. If no tracking number is provided, we will not issue a refund or exchange until we receive the returned item.
(iv) You are responsible for the shipping or postage costs for returning your item unless it was damaged, defective, or incorrectly received.